The Residence -
04.10.2019 - 15:30
The Residents of the 39th session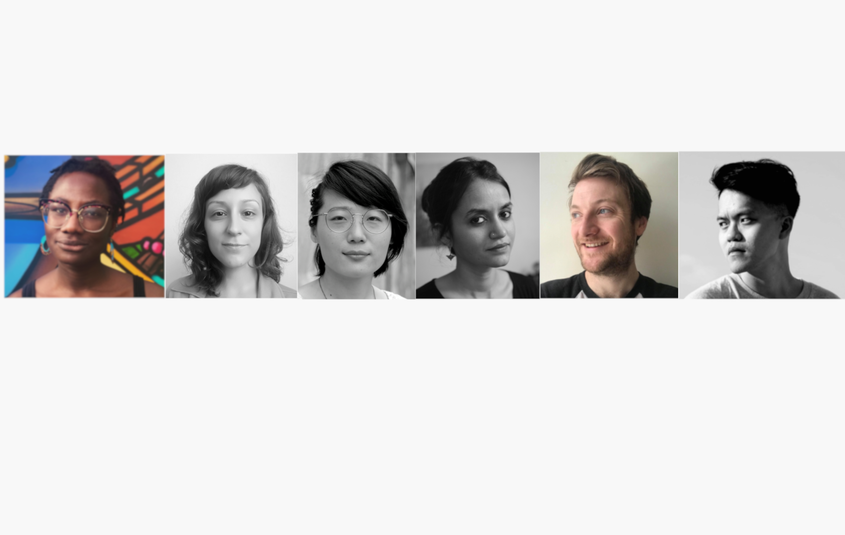 Raven Johnson, Urška Djukic, Zi Gao, Payal Kapadia, Rhys Jones, Chiang Wei Liang
Since October 1st, 2019, the Residence welcome the 6 directors selected for session 39: Payal Kapadia (India), Rhys Jones (Great Britain), Wei Liang Chiang (Singapore), Zi Gao (China), Raven Johnson (USA) and Urška Djukić (Slovenia). Payal Kapadia and Wei Liang Chiang will be the first representatives of India and Singapore to participate in the programme.
Born in Singapore, Chiang Wei Liang graduated from the Nanyang Technological University with a degree in Communication Studies and recently completed his MFA in Film Directing at the Taipei National University of the Arts. Based in Taiwan for the past decade, his work focuses on the relationship between Southeast Asia and the Greater China Region. His short film Anchorage Prohibited received the Audi Short Film Award at the 66th Berlinale and was presented at various international film festivals. His recent short films Luzon, Nyi ma lay and the VR short film Only the mountain remains – in competition at the 76th Venice Film Festival – continue this ongoing commentary on the geopolitics and socio-political phenomena taking place within Taiwan. Chiang is an alumnus of the Locarno Filmmakers Academy, FID Campus and the Golden Horse Film Academy, mentored by esteemed Taiwanese film director Hou Hsiao-Hsien. He is developing his first feature film MONGREL.
Urška Djukic Urška Djukic was born in 1986 in Ljubljana, Slovenia. She studied at the Academy of Arts in Nova Gorica. Her short film Bon Appétit, La Vie! won the award for Best Short at the National Festival of Slovenian Film 2016. In 2018, she was invited to participate at SEE Factory, a joint project for young directors curated by Directors' Fortnight and Sarajevo Film Festival. There she co-directed a short film The Right One that was presented within Cannes 2019. Parallel to Cinéfondation Residence Urška is developing her debut film Little Trouble Girl within Goethe Institut supported program First Films First. By combining live-action, animation and various forms of experimental techniques Urška Djukić creates hybrid visual narratives and is especially focused on exploring topics of contemporary womanhood .
Zi Gao is a writer-director born and raised in China. In 2015, she earned her MFA in Film Directing from the California Institute of the Arts in the United States. Her short film ELIZA premiered at the Créteil International Women's Film Festival and screened at festivals around the world. In 2017, Gao shot a short documentary THE FLOWER under the mentorship of Béla Tarr, which went on to screen at the Odense International Film Festival. She is also one of the 15 talents that was invited by Berlinale Talents Tokyo in 2018. She is currently developing her debut narrative feature RAJA'S EARLY SUMMER, which has been awarded the International Film Festival Rotterdam's Hubert Bals Fund - Script and Project Development: Bright Future in fall 2018.
Raven Johnson is a Liberian-American filmmaker originally from Minnesota. She recently graduated with her MFA from NYU Tisch's Graduate Film program as a Writer/Director. During her time at Tisch, she also crewed on over a dozen short film productions around the world, which afforded her the opportunity to travel abroad for the first time. In 2017, Raven was named one of AT&T's Emerging Filmmakers for her short film, TWEEN, which also won that year's Student Choice Award at the 41st Cleveland International Festival and had its international premiere at last year's 62nd BFI London Film Festival. Currently, Raven is hard at work finishing her NYU Graduate Film thesis, THE TRUCKER, a short film about a West African immigrant truck driver traveling back home through the Midwest. She is also developing her first feature, RUBY: A PORTRAIT OF BLACK GIRL LIVING IN THE AMERICAN SUBURBS, based on the award-winning short film TWEEN.
Rhys Jones was raised in the North of England by his Irish mother and Welsh father, who both sparked his interest in cinema at an early age when they would record movies late at night on VHS and hold them hostage as a behavioural incentive. This led Rhys to enrol and study cinematography at the Northern Film School in Leeds before being accepted into the NYU Tisch School of the Arts Graduate Film school as a three-time BAFTA scholarship recipient. The short films he made whilst a student in New York - BURN BRIDGE, BOUNDARIES and PALE SAINT - have been shown at festivals around the world. Since graduating, he has written and directed his first commissioned short, FATHER OF THE BRIDE, financed by BBC WALES and the BFI NETWORK, and attended talent labs such as NISI MASA European Short Pitch, BBC Films/ BFI iFeatures and BFI / BAFTA Flare LGBTQ+ Mentorship (with Wash Westmoreland as a mentor). As a Writer / Director, Rhys' style and subject matter merges elements of realism with intimate character studies to tell stories that resonate with the common struggles of identity, awareness and self-acceptance. Rhys is developing his first feature film BLACK CHURCH BAY.
Payal Kapadia is a Mumbai based filmmaker and artist. She studied Film Direction at the Film & Television Institute of India. Her work deals with that which is not easily visible, hidden somewhere in the folds of memory and dreams. It is between minor, ephemeral feminine gestures where she tries to find the truth that makes up her practice. Her film, Afternoon Clouds premiered at Cinefondation, 2017. Her experimental documentary And What is the Summer Saying had its world premiere at the Berlin International Film Festival (Berlinale Shorts, 2018). It went on to receive the Special Jury Prize at the International Documentary Film Festival of Amsterdam (2018). Kapadia's experimental short ,The Last Mango Before Monsoon, was premiered at the Oberhausen International Film Festival (2015), where she won the FIPRESCI Prize and Special Jury Prize. The film received other honours, including awards like Best Film and Best Editing at Mumbai International Film Festival (2016). Presently Payal is working on her first feature film ALL WE IMAGINE AS LIGHT, for which she has received the Hubert Bals Bright Futures Fund for Script and Project Development.
---