The Selection -
23.05.2019 - 17:25
Claire Denis and the Jury have annouced the Palmares of the 22nd Cinéfondation Selection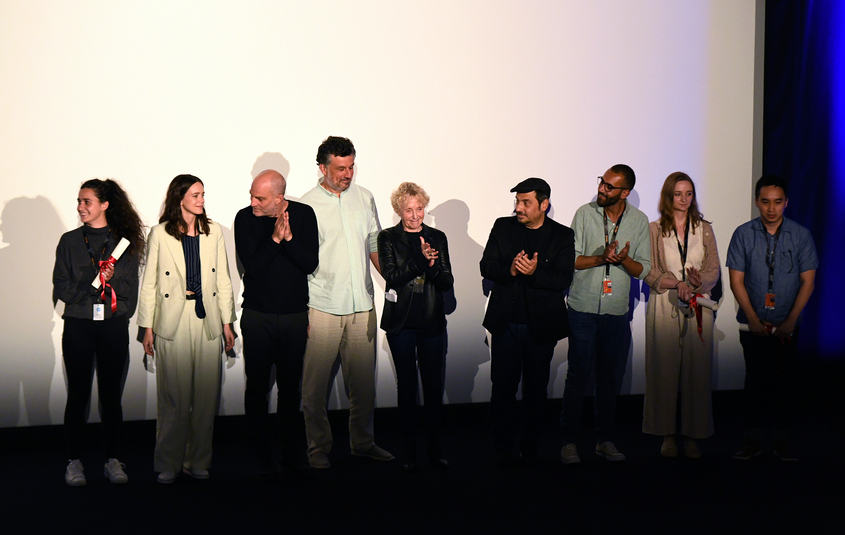 Jury et Lauréats de la Cinéfondation 2019 © Deborah Neris / FDC
The Short Films and Cinéfondation Jury headed by Claire Denis and including Stacy Martin, Eran Kilirin, Panos H. Koutras et Cãtãlin Mitulescu has awarded the 2019 Cinéfondation Prizes during a ceremony held in Buñuel Theatre, followed by the screening of the winning films.
The Cinéfondation Selection consisted of 17 student films, chosen out of 2000 entires coming from 366 film schools around the world.
FIRST PRIZE
MANO A MANO directed by Louise Courvoisier
La CinéFabrique (France)
SECOND PRIZE
HIẾU directed by Richard Van
California Institute of the Arts (USA)
JOINT THIRD PRIZE
AMBIENCE directed by Wisam Al Jafari
Dar Al-Kalima University College of Arts and Culture (Palestine)
DUSZYCZKA (THE LITTLE SOUL) directed by Barbara Rupik
The Polish National Film, Television and Theatre School in Lodz (Poland)
AWARDS
The Cinéfondation allocates a €15 000 grand for the First Prize, €11 250 for the Second Prize and €7 500€ for the Third Prize.
The winner of the First Prize is also guaranteed the presentation of her first feature film at the Cannes Film Festival.
RERUN IN PARIS
The awarded films will be screened at the Cinéma du Panthéon on May 28th at 06:00 p.m..
---