News -
02.03.2020 - 12:00
The Residents of the 40th Session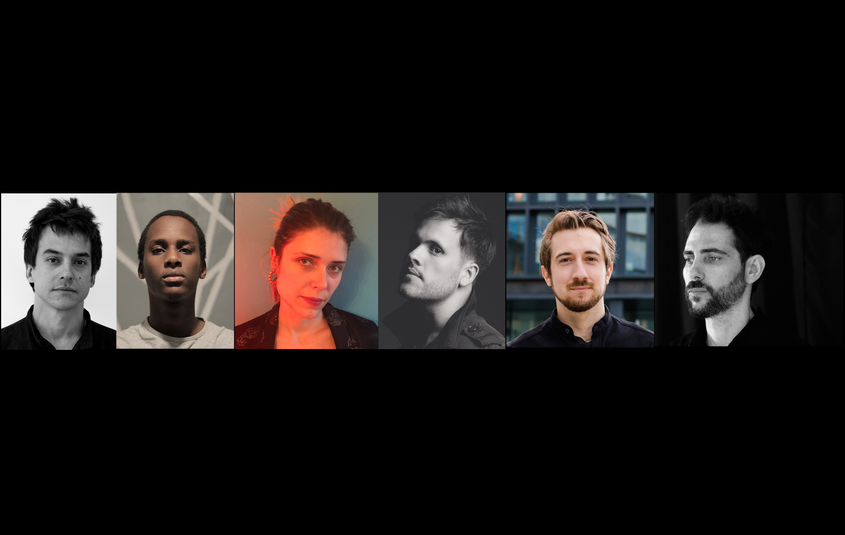 Guillermo Garcia Lopez, Samuel Ishimwe, Hana Jusic, Rodrigo Barriuso, Bernhard Wenger, Miki Polonski © RR
For its 40th session the Residence welcome directors Rodrigo Barriuso, Guillermo García López, Samuel Ishimwe, Hana Jusic, Miki Polonski and Bernhard Wenger. Samuel Ishimwe and Bernhard Wenger will be the first filmmakers respectively from Rwanda and Austria to be welcomed at the Residence in Paris.
Rodrigo Barriuso is a Cuban-Canadian filmmaker. He was born and raised in Havana, and relocated to Toronto in 2006 to attend Ryerson University's School of Image Arts, where he earned a BFA in Cinema Studies. He later received his MA in Contemporary Art History from OCAD University. His first short film, For Dorian (12), screened at festivals worldwide, receiving awards at Inside Out, Mix Copenhagen and the Torino LGBT Film Festival. His debut feature, Un Traductor (18), premiered at Sundance Film Festival as part of the World Cinema Dramatic Competition and won the award for Best Director at the 21st Shanghai IFF and the 17th Pune IFF, among other accolades. Un Traductor was Cuba's official entry to the 92nd Academy Awards in 2020. Rodrigo is an alumnus of TIFF' Filmmakers Lab and the Sundance Institute's Feature Film Program, where he attended the Havana Screenwriters Workshop, the Editing Intensive and the Sound Design and Music Lab. He is currently developing his second feature film Neverman.
Guillermo García López was born in 1985 in Madrid. His first feature film, Frágil Equilibrio (2016), won the Goya for Best Documentary Feature and premiered at the IDFA, as well as garnering many other awards and being selected for numerous film festivals. In 2017, he created, wrote and co-directed the series Atlánticas, made up by three films midway between fiction and non-fiction: Deshielo, Inmersión and Oscilación, that opened on RTVE. He teaches film at interdisciplinary settings such as the Master of Architectonic Communication at Polytechnic University of Madrid, carrying out projects that intersect cinema and architecture, for instance, the experimental films Faceless and Lo-Tech Reality, this last as a result of his collaboration with the Underground Resistance collective in Detroit. He is currently writing his first fiction feature film, Ciudad Sin Sueño - also selected for the development program of the Spanish Academy of Cinematographic Arts and Sciences and for the Berlinale Talents Script Station, as well as creating a cinema school for young people at one of the largest illegal settlements in Europe, on the outskirts of Madrid, that will also be the setting of his film.
Samuel Ishimwe was born in 1991 in Kigali, Rwanda. After he graduated, Samuel worked as a journalist and photographer. He made his debut in cinema by participating in several film training workshops. Since 2011, he has been directing short films including Crossing Lines, which have been screened in many international festivals, including the Durban Film Festival in South Africa. In June 2017, he completed his studies in Switzerland at the Haute Ecole d'Art et de Design (HEAD - Geneva). His last short film Imfura was selected at the Berlinale 2018 where he won the Silver Bear. Samuel is currently developing his first feature film Ikimanuka "Seasons of the Weary Kind".
Hana Jusic was born in 1983. In 2010 she graduated with a degree in film directing at the Academy of Dramatic Art in Zagreb.Presently she is a lecturer at the Department of Film Directing at the same school.
She has written and directed several short films; her short The Chill was shown in Oberhausen in 2012, and No Wolf Has A House in Rotterdam in 2015. She wrote scripts for 2 feature films for children, The Mysterious Boy by Drazen Zarkovic in 2013 and The Mystery of Green Hill by Cejen Cernic in 2017. In 2016 her first feature Quit Staring at My Plate premiered at Venice Days, after which it had a festival run of over a hundred festivals. Besides being on the writers' team of The Last Socialist Artifact, a mini-series in pre-production phase, she is currently writing her second feature God Will Not Help.
Miki Polonski was born in Bat Yam, Israel. He is a film director and writer. In 2015 he graduated with honors from the Film Department of the Minshar School of Art in Tel Aviv. He teaches Film directing at Sapir Academic College and at the Minshar School of Art. Polonski directed six short films which have been screened in numerous film festivals and have won several international awards. His latest short film, Shmama won the Silver Pardino in Leopards of Tomorrow at Locarno Film Festival, 2017. Asara Rehovot Mea Etsim premiered at the Cannes Cinéfondation Official Selection, 2015. 1 Building and 40 People Dancing won the Best short documentary at Docaviv Film Festival and at the Israeli Documentary Filmmakers' Forum Competition, 2015. His first short film Albina 12 was nominated for the Israeli Academy Awards. In 2017 his films were featured in retrospectives at several international film festivals. Takotsubo is Polonski's debut feature film. The project was part of the Torino Film Lab, 2019 and won Best project at the Talent Village of Les Arcs Film Festival 2018.
Bernhard Wenger was born 1992 in Salzburg, Austria. After graduating high school, he moved to Vienna, where he gained professional set experience. Since 2014 he has been a student at the Vienna Film Academy. His last short film Excuse me, I'm looking for the ping-pong room and my girlfriend was awarded Best Short Film at the Austrian Film Awards 2019, premiered 2018 at the Moscow Film Festival, won the Max Ophüls Award, as well as both short film awards at the Diagonale – Festival of Austrian Film. Bernhard's last shorts have been screened at prestigious film festivals and have won numerous awards. His doc Keeping Balance got a Vimeo Staff Pick in 2017 and 2018 Exit Right went viral on Facebook with more than 12million views. Two of his films have been broadcasted on ARTE. Bernhard was part of several short film juries including Jameson Cinefest's in Hungary and FEST in Portugal. In 2019 Bernhard became a member of the Austrian Academy of Film and participated in the 'Nuits en Or' tour of the French Académie des César. Bernhard is currently working on his first feature length film Peacock. With his script he was accepted into the 40th session of the Cinéfondation Residence.
---